The Salt Lake City Half Marathon was a success!
If you're a new reader, I've been documenting my 12-week half marathon training plan all the way from the beginning to give my honest thoughts on what it's like to go through a half marathon training plan.
You can find my diaries from each week of training here.
Salt Lake City Half Marathon Race Goal
The personal best from my previous half marathon was 2:19:41.
My goal was to finish the Salt Lake Half in 2:10:00 or less. This means I had to run at a 9:55 pace or better. In the Ogden Striders 10 Miler, I averaged 9:54 per mile despite miles and miles of nasty hills so I felt really confident about beating 2:10!
Training Plan and Preparation
I went into more depth over my training plan and summarized my entire training cycle in my Half Marathon Training Diaries: Week 12 post, but I'll cover the basics with you here as well.
The Hal Higdon Intermediate Half Marathon plan is the training plan I used for this race. It was 12 weeks long, and typically included 5 days of running, 1 day of cross training, and 1 day of rest each week. This plan also included a number of races leading up to the half to check my progress.
You don't need to complete it exactly as written
I completed 62 out of 65 workouts on my training plan, thanks to a decision to adapt the 80/20 Running philosophy for this training cycle. Running slow 80% of the time and saving my energy for the other 20% of my speed workouts allowed me to stay consistent, increase my weekly mileage, AND increase my speed over time.
Related: 80/20 Running: Why You Need to Slow Down
My Must-Have Gear for a Half Marathon
This is the first time I've actually laid out all of my gear the night before to get a "flat runner" photo.
But it made me think, there are several things I wouldn't get caught without during a half marathon.
This is my must-have gear for a half marathon:
Bib Number! (And safety pins)
Long-Sleeve Shirt (It was a cold race!)
Reliable, Comfortable Sports Bra
Race Morning Routine
I allowed myself 45 minutes to leave the house before the race. In that time, I did my normal morning routine to get ready and put my race outfit on plus some extra layers for the cold starting area. Then, I mixed up my sports drink for the day and had my favorite race morning breakfast of oatmeal plus Nutella, peanut butter, and a banana.
After that, I was out the door! My husband was awesome enough to come with, cheer me on, and take pictures. We parked near the finish area and I had to take public transportation up to the starting line. Thanks to great race coordination, my race bib counted as fare to ride the Trax up to the starting line.
I arrived at the starting area about an hour before the half marathon started, just in time to see the bike tour take off.
Trying to stay warm, I jogged around for a bit to loosen up, did some stretches, and went to the bathroom a couple times (because once is never enough before a race). About 20 minutes before the start, I shed my extra layers, put my race gear on, and checked my gear bag with the volunteers.
Related: What is a Gear Check Bag and What Do You Need to Pack?
Then, I downed a gel quick before jumping in the starting corral 5 minutes before starting time.
Related: 3 Powerful Fueling Strategies for Your Next Half Marathon
Inside the Salt Lake City Half Marathon: Recapping the Miles
Ok, now it's time to talk about the actual race!
Start through Mile 5
I lined up inside my assigned corral just in front of the 2:10 pacer. As long as I stay in front of him, I'll be good.
Of course, everyone went a little crazy and flew out of the starting gate…like always. I focused on keeping my effort easy and avoiding pushing myself too hard in the beginning. My first mile split was 9:28.
In the second mile, the 2:10 pacer flew by me and left me in the dust.
I was like, WTF??
I was already way ahead of pace yet he gained a TON of ground on me and I was left to question whether my pace was good enough. My second mile split was 9:24. Way faster than my 9:55 goal. I wanted to keep myself around a 9:30 pace for the first few miles, and no faster.
At mile 3, we got some great downhill stretches. My pace picked up for an 8:56 split. Might as well take advantage of gravity while I can, right? In mile 4, I had a 8:53 split as I flew downhill some more. I also took my first gel at mile 4. Around 4.5 miles, I passed the 2:10 pacer. It was like he finally realized he was way ahead of his watch…
Mile 5 through Mile 10
I knew I had an awesome start on the race, and at mile 5 I focused on keeping the pace going at a comfortable quick turnover rate. Mile 5 came with a 9:10 split. Still pretty quick.
After mile 5, we started to go up a few hills. At around 5.5 miles, my husband was able to walk over from where the finish area was a few blocks away and grab some pictures of me mid-course. He could tell by the time that I was ahead of pace, and as I passed he said, "Keep it up!"
A few more hills slowed my pace mid-race. My 6 mile split was 9:36, then at 7 miles was 9:51, and at 8 miles it was 10:11. At mile 7, I took my second Honey Stinger gel. This was also where we started to see quite a few more spectators and hilarious signs, which really helped the miles go by. After mile 8, I knew I had to pick it up again. My splits were slowing down too much. Mile 9 came with a 9:53 split, and then mile 10 was 10:01.
Mile 10 through the Finish
It was around mile 10 that my knees started to hurt. When I first started running consistently again 2 years ago, I had a ton of issues with my knees hurting. After I built up my fitness, it turned into a non-issue most of the time. Only once in a while, when I'm really pushing my effort, do they start hurting again.
Oh, and my phone decided to start not connecting to my headphones via Bluetooth around 10.5 miles, so that was great…
I pulled out all the mental tricks I could think of.
"This ain't nothing. You conquered all those brutal hills in Ogden, this is nothing. My knees are fine, that's just the feeling of victory. I'm gonna make it, I'm gonna bust through this goal."
When you can't tune out with music, it forces you to find out what you're really made of.
Mile 11 came with a 9:48 split. Alright, back on track! Let's do this!
Mile 12 was a 10:06 split. Don't slow down now, you're almost there. Last mile, give it your all!
Mile 13 was a 9:41 split, and even before that I could see the finish line. Let's go! Sprint it out!
Haha…after 13 miles, my legs don't have much "sprinting" left in them. My hip flexors caught on fire about that point, but I wasn't about to let that slow me down.
I could see the race clock, and I was about to CRUSH my goal of beating 2:10!!
Funny thing…I crossed the finish line exactly at 2:10:00 (gun time).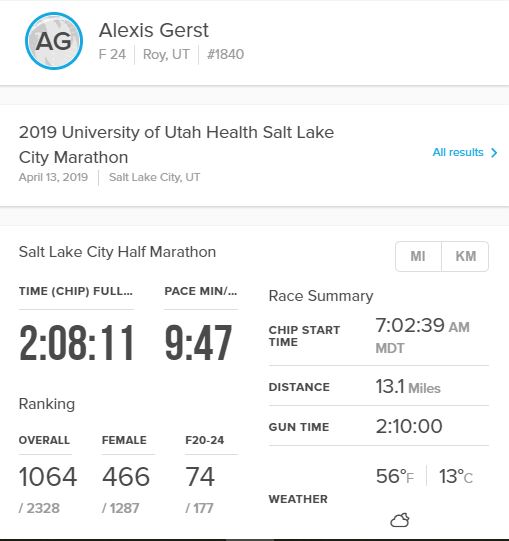 My chip finish time was 2:08:11!
That's an 11 minute, 30 second improvement from my last half marathon…HOLY FREAKING SMOKES!
Post-Race Recovery
After I crossed the finish and received my well-earned medal, I noticed that I could barely walk. My hip flexors were screaming and so were my knees. I limped over to the gear check area with my husband who stood in line with me to grab my bag.
The line was SUPER LONG!
By the time I got to the front, I was FREEZING. My body temperature was cooling down, my teeth started chattering, and my fingers were white. My husband didn't have time to walk back to the car and grab my change of clothes before catching me at the finish, so we decided to just head back to the car and head home.
As soon as we got to the car, I mixed my Generation UCAN Performance Energy + Protein post-run recovery drink and downed it, along with continuing to hydrate with water and electrolytes.
Later That Afternoon
The rule is to never try anything new on race day, right?
Well, I got some Nuun tablets at the race expo the day before, and I've been wanting to try them for a while. After the race, I figured it was safe to try something new and I had a few Nuun tablets throughout the afternoon to re-hydrate.
I have to say, they are delicious! And the awesome flavor makes me want to drink more water. I think I'm obsessed…I could seriously drink these things all day long. If you haven't tried these yet, you need to grab yourself a couple flavors on Amazon!
Recovery Massage
Oh, I also did lots of stretching after I got home, in the shower, and after my shower. I took a nap for about an hour (which was just what I needed), and then headed to get a 70 minute massage at the spa just a few miles away from my house. I had scheduled the massage way ahead of time as my post-race treat, because I knew it would feel amazing!
And…it was.
---
What is your favorite part about running a half marathon?
Run Happy,
Alexis
About Me: I'm Alexis, Founder of RunningMyBestLife! I am an avid recreational runner, half marathoner, wife, dog mom, busy professional, downhill skier in Northern Utah. My mission is to help new enthusiasts fall in love with the sport of running. I believe that running is a catalyst to taking control of your life and living your best life by design. Learn More –>