---
Update: Due to COVID-19, the 2020 Ogden Marathon has been rescheduled to Saturday, September 26th, 2020. You still have time to join us!
---
The Ogden Marathon is held the 3rd Saturday every May, and the scenic race course gives runners something to look forward to. Held in Ogden, UT, the Ogden Marathon is a great race for first-time marathon runners or runners who want to change up their scenery.
With that, let's get into the 22 remarkable reasons to run the Ogden Marathon this year!
The Ogden Marathon Course is Breathtakingly Beautiful
Simply put.
If there was one reason and one reason alone to run the Ogden Marathon, do it because the course views are breathtaking. Seriously. Over 26.2 miles, you will view open roads, green fields, a gushing river, Pineview Reservoir, and the roaring Ogden River waterfalls through Ogden Canyon.
"I love that you get to see Pineview from almost every angle 😊 It's one of the prettiest races and have a very nice decline for most of the race. And the town's support at the end is awesome too!" ~Kelton Johnston, 2020 Ogden Marathon Ambassador
The Ogden Marathon was Voted "One of the Best Courses in America for First-Time Marathon Runners" by Runner's World
Definitely not by accident. The gentle downhill point-to-point elevation profile of the race keeps you moving forward, the volunteer support and aid stations are incredible, and the beautiful views are enough to keep any first-time marathoner going just to see what the next waterfall might look like.
Olympic runner and author Jeff Galloway stated, "Having run almost 200 marathons, I've found the Ogden Marathon to be special because it has gentle downhills that keep you moving, great scenery and friendly supporters throughout the weekend."
The Race Provides Buses to the Starting Line
Because the race is point to point, the race provides buses to the starting line for the full, half, and relays. Simply park downtown near the finish area and hop on a bus to the start!
Pro Tip: Since Ogden Canyon gets shut down for the race, the bus is the ONLY was to get up to the starting area. There is no parking available at the starting line.
The Ogden Canyon Gets Closed to Traffic During the Race
It might make logistics tough (you need to make an early bus to get to the starting line), but this is one of the few times where it is actually safe to run through Ogden Canyon. With winding turns and little to no shoulder on the road, it's nice to enjoy the views when the road is closed to traffic…and not have to worry about getting hit by a car.
"When else can you run down the canyon without getting hit by a car?" ~Jenet Davis, 2020 Ogden Marathon Ambassador
The Ogden Marathon is Mostly Downhill
Already mentioned a few times, the Ogden Marathon is a downhill race. The full marathon starts at an elevation of 5397' and ends at 4309' for a total elevation loss of 1142'. With only a couple of slight uphill sections, the rest of the course is downhill and fast.
Voted "Best Running Event in Utah" By Salt Lake City Weekly Staff and Readers Pick 2018
Best. Running. Event. In Utah. If you're looking to check the state of Utah off your 50-state running quest, this is the race to do!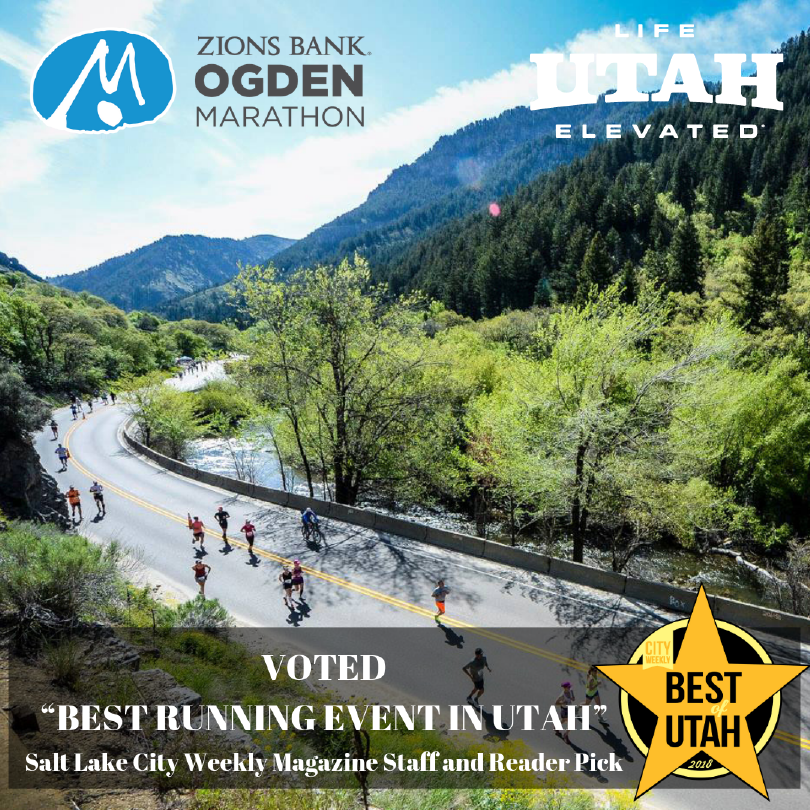 Produced by a Non-Profit
What's better than running a marathon? Supporting a non-profit!
The GOAL (Get Out and LIVE) Foundation provides youth programming, summer camp scholarships, group grants, and volunteer support to the greater Ogden Area. And your race entry supports their mission.
2020 is the Ogden Marathon's 20th Anniversary
Lot's of 20's, right?
The 20th Anniversary is a big deal and the Ogden Marathon is upgrading everything. Stay tuned on their Facebook page for announcements on exciting, cool new things for this year!
Incredible Fun & Fitness Expo
Race weekend kicks off with a Fun & Fitness Expo where you can pick up your race bib on Friday. With over 70 vendors, you can pick up any last-minute race goodies you might need or something new to try on your next run (after the race of course!). Shop, visit, and meet-up with fellow runners.
You Can Qualify for Boston
The Ogden Marathon is considered one of the fastest and most scenic Boston Qualifiers in the nation. Use this course to your advantage to quality for the Boston Marathon!
Get DOUBLE the medals!
The Ogden Marathon is part of 3 different "Double Medal" Challenges:
Double Medal with Huntsville Marathon (Full or Half)
Double Medal with St. George Full Marathon
Double Medal with Winter Race Circuit Half Marathon and Ogden Half Marathon
It is Part of the Grand Slam in Utah
The Ogden Marathon and Half Marathon are both part of the Utah Grand Slam. In the Grand Slam, you can complete 3 Utah Marathons (OR 4 Half Marathons) and combine your times to compete for overall and age group awards.
The Course is Fully Supported by "The Best Volunteers on the Planet"
The Ogden Marathon volunteers are awesome. They truly are.
The marathon course is fully supported by volunteers with aid stations located at the start plus miles 3, 5, 7, 9, 11, 13, 14, 15.5, 17, 18.5, 20, 23, 24, 25. They have water and Gatorade ready at every aid station plus portable restrooms. Plus, some of the aid stations have fruit, energy gels, and minor first aid supplies. Click here for the most up-to-date aid station information.
Final Mile of the Course is Lined with "Hoopla" Stations
Need some extra cheer to carry you through the final mile of the race? Say no more. The cheering "Hoopla" stations are full of energy, music, and fun to help you fly through to the finish line.
Let Your Kids Join the Fun with the Kids K!
The Kids K starts at 12:30 on race day, just in time for you to finish your race and cheer on your little ones. Let's inspire the next generation of runners and give them an opportunity to "Run fast like mom" or "Run fast like dad"!
There is a Full-On Finish Line Festival
FULL-ON. The finish line for the Ogden Marathon is located in downtown Ogden between 25th and Grant Street.
They put on a huge party and encourage you to bring your family for food, kids activities, live music, massage, vendor booths, and more!
Cash Prizes are Awarded for the Top 3 Male and Female Finishers
Cash prizes are awarded for the top 3 male and female finishers both in the overall and masters divisions. Find out how much here.
Of course, all finishers receive a medal (and my Ogden Marathon medal is one of my favorites because of how pretty it is!).
In addition, the Ogden Marathon gives away cash prizes based on gun time results. Further, they award plaques in the overall category and each age division for 1st, 2nd, and 3rd places in the marathon, half marathon, relay, and 5k.
The Race Has a Relay Option
Want to partake in the beautiful course views, but not sure that you need to travel the entire course on foot? No worries! Team up with a few friends and split the course into a relay.
There are 5 legs of the relay and depending on which leg of the relay you pick, you could run between 3.1 to 7.1 miles. This is a great way to still take in the excitement and views of the Ogden Marathon without having to run the entire 13.1 or 26.2 miles by yourself.
American Flyer Pacers will be Pacing Both the Half and Full Marathon
Need a little extra help making sure you hit that goal time? Just line up with a pacer and stick with them for the duration of the race!
Here are the pace times:
Half Marathon: 1:30, 1:40, 1:50, 2:00, 2:15, and 2:30
Full Marathon: 3:05, 3:15, 3:35, 3:45, 4:00, 4:15, 4:30, and 5:00
You Can Upgrade to the VIP Experience
What, what?!?
Yes, you can get treated like a Very. Important. Person.
Simply add the VIP Experience to your race registration. You can do this either when you register or add it on later using the same account you registered with. If you want a marathon day experience that is exclusive and separated from "the herd" a bit, this is the way to go.
Perks Included in the Ogden Marathon VIP Experience:
VIP Packet Pick-up (Aka no line!)
15-minute massage after finishing (Um, hell yeah!)
Upgraded swag bag
Upgraded Coach Bus to the Start Line (Yes, please!)
VIP Coach Bus is the last to leave in the morning (15 minutes extra sleep? Sure thing.)
Coach Buses include their own bathroom (Race morning game changer)
Your own port-a-potties so you don't have to wait in line on race morning!
Pre-Race Continental Breakfast (For those of you who prefer to not plan ahead and eat at 3am)
Special runner recognition as a program supporter (Woot!)
Large portion of your entry fee is a tax-deductible donation to GOAL Foundation Young Runners Program
The Ogden Marathon is Right in Your Backyard
For locals, this race is convenient. Many live along the course itself or a short drive from downtown Ogden. It's the best time to run a marathon because you don't have to worry about any travel involved, which significantly decreases the cost (No travel, airfare, rental car, gas, lodging, extra food, etc.).
Plus, it's a great way to get out and see the area!
You Can Register Today and Get $10 Off
If you're still on the fence and haven't registered yet, it's time! The prices go up every month, so the sooner you register, the less you have to spend to get in on this iconic race.
Plus, hitting the "Register" button is a commitment to a better YOU. If you register early, you have incentive and time to actually train for the race 🙂
(If you're running the half marathon and want to jump-start your training, grab my FREE 6-Day Half Marathon Training Kick-Start Course.)
You can use my discount code, "GERST20" to get $10 off your race registration.
Are you running the Ogden Marathon this year??
Join me on Instagram while we train for the Ogden Marathon.
Drop additional reasons to #RunOgden in the comments!
Run Happy,
Alexis
About Me: I'm Alexis, Founder of RunningMyBestLife! I am an avid recreational runner, half marathoner, wife, dog mom, busy professional, downhill skier in Northern Utah. My mission is to help new enthusiasts fall in love with the sport of running. I believe that running is a catalyst to taking control of your life and living your best life by design. Learn More –>