The Halloween Half in Ogden was somewhat of a last-minute race sign-up.
After I missed my goal of breaking 2-hours due to some tough conditions in the Air Force Half Marathon, I signed up for the Halloween Half in Ogden, UT as my version of a "redemption race." I knew my fitness was there to run a 2-hour half marathon, and with this race I was able to prove it to myself.
Training and Preparation for the Halloween Half in Ogden
For this race, most of my base training and preparation was done while preparing for the Air Force Half Marathon.
After that race, I spent 2 weeks focused on easy running and recovery. Then, I built my mileage up again over the next 2 weeks and tapered on the last week. With 5 weeks between the Air Force Half Marathon and the Halloween Half in Ogden, it was a perfect amount of time to recover, peak, and taper again. However, I'm sure that I didn't actually gain any fitness during those 5 weeks.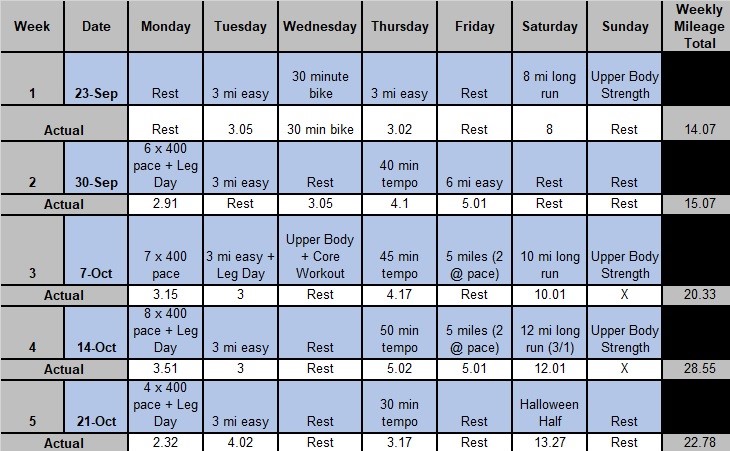 My Must-Have Gear for a Half Marathon
I didn't actually get a "flat runner" photo before this race…BOOO!
This is my must-have gear for a half marathon:
Race Morning Routine
I slept in an extra hour on race morning, ate my typical breakfast of oatmeal with peanut butter and Nutella, a cup of tea, prepared my race gear and headed out the door.
On race morning, we were supposed to park at the finish line and ride buses over to the starting area. Since this race was local and my husband wasn't actually running with me, we decided to have him drop me off at the starting area (which was perfect because I got to stay in the warm car until shortly before the race started, AND I got to sleep 1 hour more than I would have if I had to ride the shuttle).
After we found the starting location, I found the bathrooms and went through my warm-up routine. About 15 minutes before the start, I took my first gel and washed it down with a few sips of water.
Inside The Halloween Half in Ogden, UT: Recapping the Miles
The race started at Ogden High School and ended at Utah Military Academy. We started off on some residential roads before moving onto the trail system for the majority of the race.
The course was absolutely beautiful and all of the trees were in full Fall color with bright yellow and orange leaves EVERYWHERE!
Start Through Mile 5
My goal for the first 10 miles was to keep my effort fairly easy, and my pace right at 9:00 min/mile. I wanted to hit mile 10 right at 1:30:00. If I could do that, I would be on track to finish under 2 hours.
At the beginning, I had a hard time keeping my pace right on point. There were several up and down "rolling" hills throughout the course, so my pace fluctuated up and down quite a bit between 8:45-9:20 min/mile.
I also played leap frog with a lady who was utilizing the run/walk method between miles 2 and 4. All the power to those who find that method useful, but it was EXTREMELY annoying as I would pass her while she was walking, then she would run fast and pass me. We repeated this cycle no less than 10 times before I finally ran quick enough to stay ahead of her.
I hit mile 5 right at the 45:00 mark, averaging a 9:00 min/mile pace. Right on target. I tossed my mittens in a trash can along the course and downed my first gel.
Mile 5 Through Mile 10
After mile 5, my focus was on maintaining a comfortably hard rhythm to knock off the miles one by one. These miles were really uneventful, by I had to constantly keep reminding myself to keep my cadence and pace up, or I would slip into a 9:30ish pace, which was too slow to bring my to the finish line before the 2-hour mark. I kept pushing and focusing on arriving at mile 10 by 1:30:00. It would be close, and I had to keep pushing my pace.
My watch hit the 10 mile point at 1:31:00. Just behind where I wanted to be, but I knew if I kept this pace up, I could still make it. At mile 10, I downed my second gel and took some more drink.
I took water at all the aid stations and carried about 16 ounces total in my running belt with an energy drink mix. Every mile or so, I took a couple sips to thirst as needed.
At this point, I noticed that I must have been hydrating well (and it wasn't as hot) because I didn't feel thirsty and dehydrated as I had at the mile 10 point in previous races.
Mile 10 Through the Finish
After the mile 10 point, I knew it would be close at the finish. My watch was about 0.10 miles ahead of the race course markers, so I was expecting that my watch would hit 13.1 miles before the finish line. This meant that I had very little room for error.
I kept pushing my cadence and focused on running as quick as I could without risking the burnout point.
In the final miles, it seemed like my watch was all of the sudden moving faster than before.
At 12.8 miles, I still couldn't see the finish area and had a hard time pushing forward for an all-out effort. I saw some blue flags ahead, and pushed towards those, only to realize that they were not the finish line but some "Homes for Sale" flags. So disappointing. By the time I reached them, I could see the real finish area just around the corner and sprinted through to the end.
FINISH LINE
Ok, so the finish was a bit confusing for me. As I approached the finish line, the race clock said 1:52:00, but my Garmin was showing just barely over 2:00:00. NO WAY is there an 8 minute difference from when I started my watch and the official race clock.
I would have to find out what my chip time was to know if I beat my goal or not. It was SO CLOSE.
After a while, I realized that the race clock probably showed the start time for the 5k race. I was able to see my chip time on the monitor past the finish line…2:00:17. Damn. So freaking close.
My Garmin said 13.27 miles when I crossed the finish, so I'm not sure….does it count? I'm going to count it to the effect of being happy with my effort and my fitness level for this race. I proved that my current fitness is worthy of a 2-hour half marathon, and I'm content with that.
An official sub-2 hour half marathon will have to wait for next spring. By then, I'll by mid-way through my first FULL MARATHON training plan and I know I'll have gained even more fitness.
Post-Race Recovery
I think this might be the first race where I actually followed my post-race recovery protocol.
Shortly after finishing and checking to make sure I didn't place in the top 3 for my age group, I glanced at my watch and realized that Chick-Fil-A would stop serving breakfast in just 15 short minutes, and I REALLY wanted a chicken breakfast burrito.
After some quick stretching and walking around to drop my heart rate, we jumped in the car and made a beeline for Chick-Fil-A. I ran inside to order still in my race clothes, bib, and medal around my neck. I'm sure that was quite the sight…
I got my chicken breakfast burrito for my post-race meal, and we headed home so I could shower and catch a nap. I took a shower, then filled up my jetted bathtub with menthol and eucalyptus recovery Epsom salts and essential oils for a relaxing recovery soak while hydrating with Nuun. After that, I laid down for an hour nap.
I must say, I honestly didn't feel crazy sore after this race. My soreness resembled that of a fast finish long run. After running 6 half marathons, my body has finally figured out how to recover from this hard effort.
Ready to Join Me in Ogden May 2020??
The night before the Halloween Half in Ogden, UT, I found out that I was selected to be an Ogden Marathon Ambassador for 2020!
What does this mean?
I'll be joining the team to promote the Ogden Marathon, and you can get a discount on registration if you use my code: "GERST20"
If you have never run a half marathon before and you want help navigating the training process, jump in my FREE 6-Day Kickstart Course!
[convertkit form=964110]
Are you planning on running a half or full marathon in the Spring 2020? Which one?
Run Happy,
Alexis
About Me: I'm Alexis, Founder of RunningMyBestLife! I am an avid recreational runner, half marathoner, wife, dog mom, busy professional, downhill skier in Northern Utah. My mission is to help new enthusiasts fall in love with the sport of running. I believe that running is a catalyst to taking control of your life and living your best life by design. Learn More –>