Books and running motivation. Two of my favorite things!
Something about runners and books go together like peanut butter and jelly. They just do. I see conversations about running motivation books come up all the time in my running circles.
Runners want to better themselves. Books are a great way to do that.
Running books can also be a great source of motivation to get you out the door when you need an extra kick in the pants. I love reading about different runners and their stories. When I read (or rather, I usually listen) their struggles, it helps me to know that I'm not the only one going through a tough time.
[convertkit form=964110]
---
Reading other runner's stories are a good way to get you out of a rut and jump-start your running motivation.
Whether you're looking for a source of running inspiration, a way to kill time on a rest day, or some long run entertainment to listen to while you pass the miles, these running motivation books are all great options!
---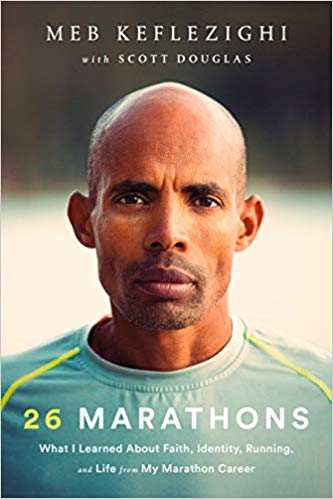 This one just came out and I haven't had the chance to read it yet, but it's high on my list!
Meb is the first person in history to win both the Boston and New York City marathons, in addition to an Olympic marathon medal. Interestingly enough, Meb's last marathon was also his 26th, and each marathon he ran came with a unique set of rewards, challenges, and outcomes.
He takes you through each race and offers insight gained. Additionally, he serves up wisdom gleaned about life, family, identity, and faith along with more practical training, nutrition, and running tips throughout. This book is an inside look at the life of one of the greatest runners living today.
---
I actually found this book after I started my second Run the Year Challenge. Tim and Adam have a view that I just love about running: it's about making you a better person and living a better life.
Runners challenge themselves to constantly become better. We enjoy the pain of discipline and the sweet taste of accomplishment.
Running the Edge takes you on a personal quest to discover the secrets behind better running and a better life. You will not only want to push your limits as a runner, but this book also inspires you to take a relentless pursuit of excellence in all areas of your life.
This book will truly bring you to the edge of running your best life. (Ha…see what I did there??)
---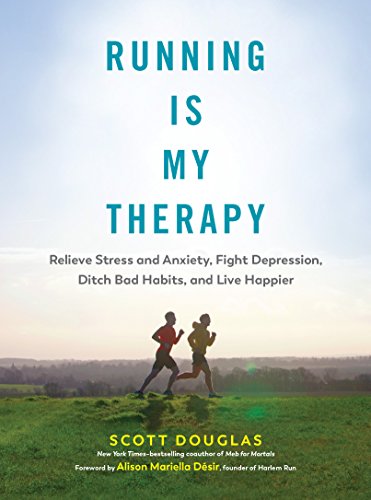 I'll admit, this book wasn't quite as entertaining as the rest on this list, but it did inspire me to take a hard look at what running does for my health, and it encouraged part of my deeper running motivation: to stay healthy for the long term.
Not only does running help us build stronger muscles and a healthier heart, but science lends clues to how running helps develop a healthier brain. I didn't realize how much running helps my mental health until I went a few extra days without running when I tapered for my first half marathon. It was at that point that I knew running helps me relieve stress, curb anxiety, and live healthier overall.
---
This one is another recent release near the top of my reading list. I've read so many books with practical running tips and science from Matt Fitzgerald, I think he's my #1 most-read author.
In Life is a Marathon, Matt attempts to answer why hundreds of thousands of people run marathons every year. This line really sums up the book description:
"An endurance athlete and coach reveals how the marathon transforms the lives of everyone who attempts it–and how it has helped his own family cope with serious adversity"
---
This is another book on my list, and I plan on reading it when I start training for my sub-2 hour half marathon goal!
Using the tools of sports psychology, two-time Olympian Kara Goucher explores the secrets of eliminating self-doubt and improving running performance. This comprehensive self-confidence guide includes experiences and stories from Kara, along with tips for self-guided mental exercises and insight on how to start your own confidence journal.
---
Born to Run by Christopher McDougal
I read this book just as I was starting to get serious in my running journey, and it was one I simply couldn't put down.
Born to Run takes you deep inside the life and running habits of the Tarahumara Indians of Mexico's Copper Canyon and explores why they are arguably the greatest distance runners in the world. When Christopher McDougal sets off to answer the question, "Why does my foot hurt?" he opens an epic adventure to discover the world's greatest distance runners and show us that everything we knew about distance running is wrong.
---
This has to be one of the most recommended running books I've seen. I got this one on Audible, and listened to it throughout the course of training for my very first half marathon. It gave me the motivation I needed to keep going even when the going got tough. Even when I was tired. Even when I lacked the motivation.
In Let Your Mind Run, Deena gives you an intimate look inside the mind of an elite athlete. Deena brings you all the way through her running career from when she began in her youth all the way through the Olympics, sharing her challenges and triumphs along the way.
She will help you discover the small steps you too can use to cultivate positivity in your running, training, and racing to develop your competitive edge.
---
My Best Life-Hack for Sneaking Books in When I Don't Have the Time to Read
When I do my easy runs or long runs, I'm either listening to a podcast or an audiobook. It gives my mind something to do and helps me relax into an easy pace. If you've been reading the blog for a while, you know I LOVE to get into a good audiobook while I'm training on my long runs.
The best way to listen to audiobooks?
Hands down, Audible.
I love my Audible membership because when I get a new credit every month, it reminds me that it's time to start a new audiobook. It also helps me stay on track with my personal development goals.
You can download the book right to your phone and hit play when you head out the door. Audible is an easy way to get your fill of running motivation books AND give your mind something to do while you check off your miles!
You can try your first 30 days FREE–PLUS get 2 free audiobooks to start!)
---
What is your favorite running book? Do you prefer to listen to your books or read them?
Run Happy,
Alexis
About Me: I'm Alexis, Founder of RunningMyBestLife! I am an avid recreational runner, half marathoner, wife, dog mom, busy professional, downhill skier in Northern Utah. My mission is to help new enthusiasts fall in love with the sport of running. I believe that running is a catalyst to taking control of your life and living your best life by design. Learn More –>