Whether you set a New Year's resolution to run your first half marathon this year or are a seasoned runner, figuring out when you need to start training for your half marathon isn't always straightforward.
How many weeks do you need to train for a half marathon?
If you are just getting started on your running journey, then I recommend taking 16 weeks to set yourself up for success. Start with Hal Higdon's 30/30 Beginners Guide or start building your weekly mileage base with one of his base training programs. After 4 weeks of initial training, then you can jump into one of Hal's 12-week Novice programs.
If you can run 4-5 miles once per week, then you can be ready to run a half marathon after 12 weeks of dedicated training. 12 weeks is the typical benchmark recommendation.
Hal Higdon's half marathon training programs are built around the 12-week format for all levels of runners.
If you are an experienced runner who is regularly logging over 20 miles per week, then you can probably train for and run a half marathon with only 8 weeks of training.
[convertkit form=964110]
Please note that a 12-week program designed around race-specific training is most beneficial if you are trying to run a personal best time.
After you know how many weeks it will take you to prepare for this awesome distance, then you can look at potential races.
Find your 2020 Half Marathon
I suggest finding a half marathon that is close to where you live for your first one.
Destination races can be tons of fun, but there is so much additional stress that goes into travel. (At least for me—anyone else?)
With all the stress and excitement to run your first half marathon, avoid the additional stress by sleeping at home the night before your race. Get your full rest, make sure you have all your gear, and eat a breakfast with food you know you can stomach before a long run.
Save the vacation race for later, after you have your first half-marathon under your belt.
You probably already know which races are in your area, but here are a few other resources to search for 2020 half marathons:
If you still can't find one, try typing "2020 half marathon near me" in your Google search bar. That should give you quite a few results.
Schedule Your Half Marathon Training Start Date
Don't worry, you don't need to pull out your calendar and start counting back the weeks from your half marathon.
I've already done all the work for you. Just find the column with how many weeks you want to train, and then go down until you find the race date for the half marathon you would like to run. Move 1 block to the left and you will see the date to start training for your half marathon.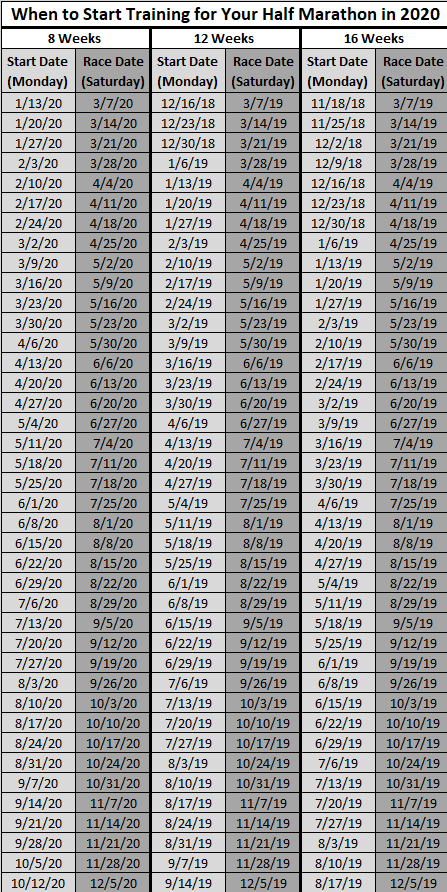 These dates are designed around your race being held on a Saturday, because most races do fall on a Saturday.
Some races are held on Sundays, or in the middle of the week on a holiday. No fear—just find the date that falls on the same week and use that as your benchmark.
All of the start dates are Mondays. Because let's be real—everyone is going to start on a Monday.
If you are one of the people that start a training program on ANY day of the week other than Monday, I would love to hear about how you do it!
Map Out Your Half Marathon Training Plan
Mapping out your training plan has 2 parts: select your training plan (aka which workouts you will do each day) and decide on a method to track it.
Here are a few reputable coaches who have free training plans:
Jeff Galloway
Jenny Hadfield
Most of these training plans give you the option to print them out, which is great.
How do you know which workouts you've completed and which ones you've had to move around?
I printed out one of Hal Higdon's programs for my first half marathon, but I couldn't read it after the first couple weeks of writing on it, scribbling my actual mileage completed, and drawing arrows to move workouts around when my busy schedule requires it.
I designed a spreadsheet that allows me to plug in the planned workouts from my desired training plan, and then enter my actual workouts as I complete them.
---
[convertkit form=878335]
---
Start your plan and track as you go!
Training for a half marathon can be tough.
You will need support and encouragement along the way. The best way I've found to stay motivated is to stay plugged into running communities online.
You can check out my Half Marathon Training Diaries 12-Week Series for some inspiration along your half marathon training journey.
How to Get Started Training for Your Half Marathon
Woohoo! Now that you know when to start training for your half marathon, it's time to get ready and learn more about the training process.
Here are 2 great options to get you started:
Join my FREE 6-Day Half Marathon Training Kickstart Course. This course will set you up with everything you need to get your training started including a workout tracker, training plan recommendations, and mindset training.
[convertkit form=964110]
Enroll in the "12 Weeks to Your First Half Marathon" Course. This is the FULL course where I walk you through your training plan week by week with advice, things I wish I knew, and what to focus on during that phase of your training.
Keep Reading: Half Marathon Training Tips
Which race(s) you are running in 2020?
Be sure to like my page on Facebook, follow me on Pinterest or Instagram, and become part of the community.
Welcome to the community and enjoy the journey of training for your half marathon! 🙂
Happy Running,
Alexis
About Me: I'm Alexis, Founder of RunningMyBestLife! I am an avid recreational runner, half marathoner, wife, dog mom, busy professional, downhill skier in Northern Utah. My mission is to help new enthusiasts fall in love with the sport of running. I believe that running is a catalyst to taking control of your life and living your best life by design. Learn More –>