When I decided in 2018 to run my first half marathon, I was pretty clueless. The farthest I had run before my training program started was 6.2 miles. I had run several 5k's the year before and one 10k.
After the 10k I said, "That wasn't so bad…I could probably do a half marathon!"
Then I learned…a half marathon is more than twice the distance of a 10k, but I still pursued that dream and learned everything I needed to know along the way.
If you're like I was and have been bitten by the running bug but you're slightly clueless on how everything works, I've got you covered.
Here are the best tips to survive your first half marathon:
Start Training Early
Give yourself plenty of time to build up your fitness slowly.
I used to be impatient with my fitness, and that lead me to hate running.
When I allowed myself to slow down to a realistic pace, I fell in love with running. Your body isn't going to be able to travel 13.1 miles tomorrow, particularly if you haven't run more than 8 miles yet.
By giving yourself plenty of time to adapt to training demands, your body will build fitness. Allow yourself adequate rest and recovery, which will help you avoid injuries. After all, you need to make it to the starting line of your half marathon healthy if you have any hopes of finishing.
Related: 80/20 Running: Why You Need to Slow Down
But when do you start?
Give yourself AT LEAST 12 weeks of dedicated training, maybe more if you haven't been running consistently already.
Related: When Do You Need to Start Half Marathon Training?
After deciding when you need to start your training, you need to find a training plan.
Follow a Plan
Find a plan from a reputable coach you don't have to pay—there are plenty of free online plans that work:
Jeff Galloway
Jenny Hadfield
Most of these plans give you the option to print them out so you can keep them on your fridge or in your planner and write on them as you go.
Track Your Progress
Printing out your training plan and writing on it works great…until it doesn't.
A few weeks into my Hal Higdon Half Marathon Novice plan, I noticed a problem.
I had written in mileage, put checks by the workouts I did, crossed others out if I didn't, and drew arrows to move workouts around. It was almost impossible to read!
A few weeks after that, my puppy got ahold of my planner and ripped the whole damn thing to shreds. I had lost ALL of my workout tracking. After that, I needed a way to keep my training plan clean, organized, and out of the reach of my mischievous puppy.
I created a spreadsheet that I could plug all of my planned workouts into and track my total mileage under each planned workout. It even totals up the weekly mileage for me!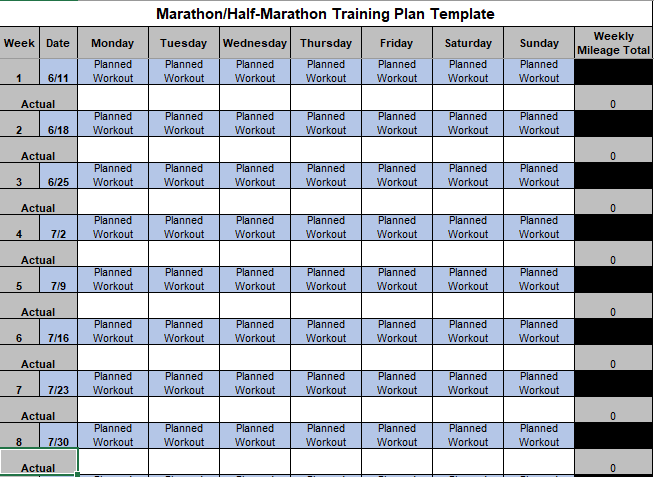 The best part? I keep it in my Google Drive, where my puppy can't reach it!
[convertkit form=878335]
Appreciate the Process
Training for your first half marathon is tough.
There WILL be days when your body is tired and sore.
Your body is stretching its known limits and learning to adapt. When you are sore and tired, recognize this for what it is: you are building fitness. You will be better when you attack your next workout after recovery.
Trust the process but listen to your body. Be sure to follow the rest and recovery days in your training plan. Rest days are written into the plan for a reason.
If you really feel exhausted and you just need a day off, take a day off. It is far better to take an extra rest day and make it to the starting line without injury, than to get injured during training because you didn't allow your body adequate recovery.
Your first half marathon is a time when you are asking your body to go well beyond its known limits.
This is a fine line that runners are always dancing on. Get your workouts in to train for the distance but avoid pushing it too far if you feel your body telling you to slow down.
Related: How to Appreciate the Training Process (Even When It Sucks)
Practice your race routine at shorter races and during long runs
Get your routine down before race day. This way, it will be automatic on the morning of your race.
When in doubt, always follow the cardinal rule of racing: NEVER TRY ANYTHING NEW ON RACE DAY.
This includes your breakfast, fueling during the race, clothing, gear, shoes, warm-up routines, etc.
Anything you want to eat, wear or do on race day, try it out on an earlier run.
If you have a 5k or 10k during your training plan, use it to practice your pre-race routine.
Figure out which food and sports drinks sit in your stomach the best.
My go-to pre-run breakfast is oatmeal with peanut butter, Nutella, and a banana. I eat this a couple hours before the race, so it has time to digest and fuel my body.
Related: 5 Best Pre-race Breakfast Foods to Fuel Your Half Marathon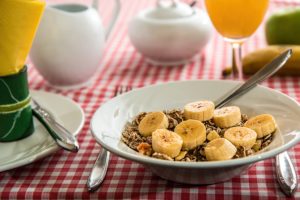 For my fuel during my first race, I chose to carry pretzels and my favorite sports drink.
You don't have to carry your own fuel during the race because there are plenty of aid stations. If you don't carry your own fuel, be sure to research what the race organizer will have at the aid stations and try those things out ahead of time, so you know which ones will be safe for your stomach and which ones you should avoid.
Related: 3 Powerful Fueling Strategies for Your Next Half Marathon
Test your clothes and gear to find what is most comfortable
You probably have several sets of running clothes in your wardrobe, but there is always one set of clothes that just seems to work better than anything else.
That's what you want to wear for your first race.
Related: Check out my Recommended Resources page for the gear I use!
---
BONUS: Discover the magical powers of Body Glide.
No seriously.
This is the one thing NO ONE FREAKING MENTIONED when I was doing all my "First Half Marathon" research.
It needs to be discussed.
Your training long runs leading up to your half marathon will tell you if you have any areas that tend to chafe. I thought chafing was weird and didn't understand how it could happen…
Then, it happened to me.
It appears my chafing threshold is just over 6 miles. After that, my sports bra rubs a few places the wrong way. And between my toes. And a spot right under my butt-cheek. (TMI?)
The chafing went too far before I desperately sought out answers. I'm not a fan of painful showers and raw skin.
Don't let it go that far before you bring Body Glide into your long run routine.
You will need body glide for your first half marathon.
As soon as you notice any areas of your body chafing on long runs, take note. Before your next long run, slide your Body Glide over those areas. By the time you are ready for your first half marathon, you should know where all the potential problem areas will be and lather them up before the big race to prevent a painful shower later.
Put this on your race morning checklist so you remember.
You can thank me now.
---
Practice your warm up routine
While you don't want to expend too much extra energy before the race clock starts, getting your muscles ready before the clock starts ticking is worth it.
You know how on your typical run, it usually takes a mile or so going slower to get warmed up and settled into your pace?
It's a good idea to do that before the race starts, so you don't waste time trying to get warmed up while the clock is running.
Wouldn't it be better to start running at your goal pace as soon as you cross the starting line, rather than wasting time going slower at the beginning?
Spend a couple minutes jogging around the starting area or down the road and back. Allow for some dynamic (moving) stretches and work out the stiff spots. Do this 15-30 minutes before the start. After I warm up, I hit the bathroom one last time and make my way to the starting line.
Make sure you allow enough time for the bathroom line, so you don't miss the start!
Familiarize yourself with the race website and details
The race website and your welcome packet (if you have one) will be your go-to guide on any questions you might have about your upcoming half marathon.
Before my first half marathon, I read the race website over and over, making sure I was aware of every detail I needed to know.
Here are some things to give special attention:
Bus Schedule
Does your half marathon require all participants to ride a bus to the start?
Here in Utah, several races start up in the mountains and finish down in the valley. The traffic up to the start would be unbearable, so they provide buses and require that all participants ride a bus to the start. For my first half marathon, we had to be on the buses an hour and a half before the race started.
If you miss the bus, you don't run. No exceptions. Be aware of whether or not buses are required for your race.
Gear Check Bag
I was completely foreign to the idea of a gear check until I ran my first half marathon. This was actually the last thing I was frantically searching how it works the day before my race. At shorter races where the race finishes in the same area it starts, I could just put my stuff in a bag and leave it in a safe place (or in my car) until I finished. At most marathons and half marathons, you start and finish in completely different places.
Chances are, you have several things that you will need either immediately before the race, or immediately after.
Enter, the revolutionary idea of a gear check bag.
Races with a gear check will give you the bag they want you to use when you pick up your race packet, and they usually put your bib number on it for easy identification.
What do you put in this bag?
In short, anything you want!
Here are some ideas of items commonly found in a gear-check bag:
Warm, dry clothes to change into after the race
Dry socks and an extra pair of comfy shoes or sandals
Deodorant and/or body fragrance
Tampons (as needed)
Chapstick
Small Towel or wet wipes to freshen up afterwards
Extra hair ties and hairbrush
Snacks and/or hydration for post-race fuel
What NOT to pack in your gear-check bag:
ID
Phone
Keys
Money
Medications
Other valuables
Most races have a smooth system in place to prevent bags from getting lost and making them easy to pick-up at the finish, but stuff happens! Don't put anything in your gear bag that you can't afford to lose, just in case.
Related: 8 Essential Items for Your Half Marathon Gear Check Bag
Packet Pick-Up
The website should have clear information on when and where to pick-up your race packet.
This is typically the only opportunity to pick up your bib, and most races require you to pick it up at the expo the day before the race. Make sure you are aware of the packet pick-up policy and don't expect to pick it up the morning of the race.
Bring your ID if they require you to show ID.
Enjoy the expo, but avoid spending too much time on your feet!
FAQ's
Frequently asked questions are on the website…because people frequently ask them!
If you still have a question in your mind after reading through the rest of the website, there's a good chance someone else has had the same question.
Be sure to read through this list of questions.
The FAQ section is your last chance to get all your questions answered and make sure you know everything you need before the big day. If this still doesn't answer your question, the race website or even their Facebook page should have contact information for you to reach out and get your questions answered.
Manage your expectations
Your first half marathon only needs one goal: to cross the finish line.
After that, everything else is gravy. Enjoy the journey and avoid pressuring yourself to finish in a certain time. Start out slower than you think you can run. Increase your speed as you are comfortable but avoid going to fast too soon and burning yourself out!
Trust me, it's easy to get caught up in the hype preparing for your race. I did it too. Set your goal finish time at the pace you normally do your long runs (slow and easy) for your first half marathon, then you can speed it up if you just have a ton of energy towards the end.
If you read the recap of my first half marathon, you will see that it was super easy at the beginning, and I ended up walking A LOT in the last 3 miles. So I will warn you one more time, TAKE IT SLOW AND EASY.
After you finish your first half marathon, you can set your sights on a specific time goal for your second 😊
Become part of a support group
I mentioned this earlier, but training for a half marathon can be tough. Like really tough.
You need to establish a support system for encouragement when you're feeling not-so-hot. This support can be in-person or virtual. The best way I've found to stay motivated is to participate in online running communities.
I will spend most of 2019 in training for one of the three half marathons on my calendar, so I will be right there with you in training this year!
You can also check out my Half Marathon Training Diaries 12-Week Series to follow along for training inspiration!
Find Your Inner "WHY" for Running
When the training gets tough, you're going to need a reason to keep going. After all, you probably chose to run a half marathon because you're hoping it will help ingrain some positive exercise and health habits into your life.
Maybe your're doing it to lose weight, or maybe you want to challenge yourself to accomplish a crazy goal.
Whatever your reasons for deciding to chase your first half marathon, dig deep and know your real reason.
Related: How to Find Your "WHY" for Running Motivation
[convertkit form=964110]
Welcome to the community and enjoy the journey of training for your first half marathon. 🙂
Be sure to like my page on Facebook, follow me on Pinterest or Instagram, and become part of the community.
Happy Running,
Alexis
About Me: I'm Alexis, Founder of RunningMyBestLife! I am an avid recreational runner, half marathoner, wife, dog mom, busy professional, downhill skier in Northern Utah. My mission is to help new enthusiasts fall in love with the sport of running. I believe that running is a catalyst to taking control of your life and living your best life by design. Learn More –>