You want to find the perfect pre-race breakfast food to fuel your race, whether it be a full marathon, half marathon, 10k, or 5k.
Everyone gets all get a worked up on race day morning. The excitement is flowing, we feel fresh from an effective taper, and nerves are high.
Related: How to Survive Your First Half Marathon
More than a few runners are unable to eat anything the morning before a race without suffering severe digestive distress during the race. If you are one of those runners, then fueling during the race becomes your primary strategy to avoid hitting the wall.
The purpose of eating a breakfast on race morning is to top off your body's carbohydrate stores, which are partially depleted after an overnight fast.
You should eat your pre-race breakfast around 2-4 hours before the race starts. If you eat any earlier, you might be hungry again before the race. Any later and the food won't be completely digested before the race starts and you could risk upsetting your stomach.
[convertkit form=878335]
---
What is the best food to eat for your race morning breakfast before a half marathon?
The best food to eat on the morning of a half marathon is easy to digest, doesn't upset your stomach, has plenty of carbohydrate to top off your glycogen stores, and is easy to prepare the morning of a race.
Most of these foods don't provide all of the carbs you will need for your pre-race breakfast, so feel free to combine more than one item. Once you find a combination or food that works, stick with it to ease your mind and your stomach!
Along with your race day breakfast you should drink 12-16 ounces of water, juice, or sports drink to hydrate before your race.
Related: The Complete Nutrition Guide to Fueling a Half Marathon
---
5 Runner-Friendly Breakfast Ideas for Race Morning
Are you ready for the foods?
These 5 breakfasts are the tried-and-true best performing race breakfasts for runners. They are easy on the stomach and provide plenty of carbohydrates, and are perfect to eat the morning of your half marathon or full marathon.
Bagel
Carb Content: 56 grams
Advantages:
Very high in carbs
Familiar breakfast food
Typically found in hotels for breakfast
Easy to prepare, eat and digest
Disadvantages:
Chewy, which can intensify nerves for some runners
---
Banana
Carb Content: 30 grams
Advantages:
High in carbs
Travel Friendly
Easy to eat
Disadvantages:
Not as high in carbs as alternatives
---
Energy Bar
Carb Content: 18 grams
Advantages:
Zero preparation
Portable and easy to pack
Disadvantages:
Too much fat, protein, and fiber for some runners
Not as high in carbs as some alternatives
Recommendations:
---
Meal Replacement Drink
Carb Content: 28 grams
Advantages:
Balance of protein and carbs
Easy to consume on a nervous stomach
Disadvantages:
Requires either a shaker cup or blender to mix
Recommendation: My favorite meal replacement shake is Herbalife24 Formula 1 Sport + Protein Drink Mix
---
Oatmeal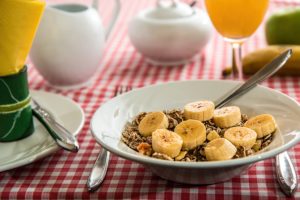 Carb Content: 30 grams
Advantages:
High in carbs
Familiar breakfast food
Typically found in hotels for breakfast
Easy to prepare, eat and digest
Filling
Disadvantages:
Recommendation: Old Fashioned Oats
Author's Note: My tried-and-true pre-race breakfast consists of 1/2c. oats, 1 TBSP Peanut Butter, 1/2 TBSP Nutella, and a Sliced Banana. I combine 2 of the best foods! And my oatmeal tastes like a no-bake cookie. Mmmm…
---
Want some more great fueling strategies? Grab my fueling strategy cheat sheet!
[convertkit form=876847]
What is your favorite half marathon pre-race breakfast?
Be sure to like my page on Facebook, follow me on Pinterest or Instagram, and become part of the community.
Happy Running,
Alexis
About Me: I'm Alexis, Founder of RunningMyBestLife! I am an avid recreational runner, half marathoner, wife, dog mom, busy professional, downhill skier in Northern Utah. My mission is to help new enthusiasts fall in love with the sport of running. I believe that running is a catalyst to taking control of your life and living your best life by design. Learn More –>