Thanks for stopping by my half marathon training series!
Currently, I'm training for the Salt Lake City Half Marathon on April 13th. My week 1 post has a comprehensive overview of my goals for this race, my training plan and philosophy, as well as my previous base training before starting this training cycle.
If you'd like to read the previous weekly recaps, here they are:
Week 1: Kick-off, Goals, and Base Training
Week 2: Feeling like less than Superwoman
Week 3: Easy Week + Sweetheart 5k
Week 4: Making Friends with the Treadmill
This week went pretty well overall. I got all of my scheduled workouts in and totaled out the week at 21.09 miles.
I feel like the theme for this week is "Just Keep Running" because there really wasn't anything specific or significant that happened this week, but I did get some more great workouts in and I'm making progress towards my goals. Sometime the process is boring, but we just have to "keep running" and plugging along towards where we want to be.
The reality is, goals are sexy, but the repetitive steps required to reach those goals are often really boring. Success is repeating the same, simple, boring steps over and over. Fall in love with the (typically) boring process, and you can reach any goal!
Monday
Scheduled: 4 miles easy
What I Did: 4.05 miles at an easy effort, which turned out to be faster than normal + 10 min abs
Despite thinking I was running at an easy effort, my pace still sneaked up to 11:02/mile, when I usually keep my easy runs slower than 11:30/mile. I listened to one of my favorite podcasts during this run, and my feet just seemed to effortlessly churn along, so I didn't worry about my pace. It still felt easy.
I think this is a great sign that my weight loss efforts have been working. On Monday, I was down 3 pounds from where I started my half marathon training plan at. This is right on track with my 2019 goals. My goal is to be down a total of 10 pounds by the time the Salt Lake City Half Marathon rolls around, which is actually only 5 pounds under where I was for my half marathon last fall because…winter and holidays.
Losing Weight while Training
I have to be careful in the weight loss process…historically I have a tendency to deprive myself and then binge eat, which erased all of the progress made. I've been tracking my calories religiously for over a year now (whether or not I've been eating well) so I feel like I have a pretty good idea of my eating habits.
My goal with nutrition in this half marathon training cycle is to fuel my body appropriately, give myself enough slack to avoid feeling any deprivation, and still maintain a calorie deficit where the extra pounds will fall off.
This is what my calories look like, and it seems to be the perfect balance for where I'm at right now. As my training load increases, I will probably bump these numbers up slightly.
I added in a 10 minute ab strength circuit at the end. It might not be much, but it's better than something! Also, my abs are little wimps, so they can't take much more than 10 minutes of torture.
Tuesday
Scheduled: 7 x 400 meter repeats @ 8:45min/mi pace
What I Did: 3.00 miles in 34:00
This workout started a little rough. I typically warm up for a half mile before getting into the repeats. There was something telling my I should've warmed up for a full mile, but I didn't listen to it. The first two repeats were pretty rough, and I felt like I couldn't get my legs to turn over fast enough to hold the pace. (Probably should've listened to my body and warmed up slow for a full mile first…) After I got into it more, my body adjusted and I was able to get the right rhythm.
My repeats would have finished at 2.95 miles, but what runner doesn't want to push themselves for the last .05 miles to round out a total of 3 miles?! So I took the bait, pushed my pace for the last repeat up to a 8:00min/mi pace and did the extra .05 miles. Of course, that made me feel like a badass at the end.
Wednesday
Scheduled: 3 easy miles
What I Did: 3.00 easy treadmill miles + 15 mins leg strength
Wednesday's workout was pretty simple. It was just a little colder than I felt like dealing with, so I jumped on the treadmill for a few easy miles.
There isn't really anything exciting to report about this workout…I played with the speed and incline just a little bit to save myself from boredom, but not so much to risk my heart rate rising above my easy zone.
After my run, I did about 15 minutes focused on leg strength. This included squats, push-ups (ok, I know those aren't legs), donkey kicks, glute bridges, and lunges. I love including donkey kicks and glute bridges because they make my booty look great!
Oh, and they're great for strengthening a runner's backside.
Thursday
Scheduled: Rest day
What I Did: Rest.
Friday
Scheduled: 3 miles at 9:55min/mi (goal half marathon race pace)
What I Did: 3.02 miles with a 10:07 average pace (Mile splits 10:29, 9:48, 9:49)
I started out slow for the first half mile, then kicked the pace down a bit at the half mile mark. It was a bit of a struggle to figure out just what my goal pace felt like. I overshot it on the next split, then spent the next mile trying to dial it back just enough but not too much. Finally, by the time I hit 2.5 miles, I had gotten my split pace right where my goal was. This specific pace might take some getting used to.
This was a nice, quick run but it made me wonder if I'm going to end up overshooting my goal pace at the beginning of my half marathon. 9:25 seems to be a much more comfortable pace for me, but I don't know if I can sustain that for the whole race! (Actually, I'm pretty damn sure I can't sustain that for the whole race…)
Saturday
Scheduled: 8 mile long run
What I Did: 8.02 miles with an 11:14 average pace (On the quicker end of my easy pace range)
It was pretty chilly Saturday morning, but I couldn't stand the idea of another treadmill long run. So I dressed in my warmest running layers and headed out with a few good podcasts queued up in my ear.
I tried the Honey Stinger Ginsting flavor at mile 4 on this run, which seemed to settle fine after I got it down. It sat a little weird at first, like it wasn't going down. A few more sips of water and less than a half mile later, it was all good 😊
I ordered the next variety pack of 6 different flavors to try, and I'm pretty excited to see how they taste!
The last few miles of this run were really chilly, especially after my clothes were soaked in sweat and the wind picked up. I was SUPER thankful to get home and into a nice hot shower.
Sunday
Scheduled: 50 minutes cross train
What I Did: 50 minutes on my spin bike
After a busy week, we decided that we would rather hang out at home on Sunday than go skiing this weekend. I got on my spin bike and queued up Youtube for some distraction while I pedaled away at an easy recovery effort. My towel makes a nice little platform to set my phone while I pedal away.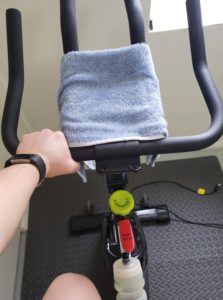 I have a pair of cushioned cycling shorts, but this damn bike still makes my butt sore.
Keep Reading–> Week 6: Focus on Recovery
[convertkit form=876847]
How is your half marathon training coming along?
Be sure to like my page on Facebook, follow me on Pinterest or Instagram, and become part of the community.
Run Happy,
Alexis
About Me: I'm Alexis, Founder of RunningMyBestLife! I am an avid recreational runner, half marathoner, wife, dog mom, busy professional, downhill skier in Northern Utah. My mission is to help new enthusiasts fall in love with the sport of running. I believe that running is a catalyst to taking control of your life and living your best life by design. Learn More –>